Nyt samarbejde trækker kæmpe­koncerter til Ollerup
TV-2, Gnags, Malurt, Danser med Drenge og Dodo and The Dodos går alle på scenen, når Live Culture 20. august præsenterer et brag af en koncertoplevelse. I samarbejde med Gymnastikhøjskolen i Ollerup er de to parter gået sammen om et nyt samarbejde, der starter med en heldagskoncert med nogle af landets stærkeste livebands.
Olympen Live hedder det nye koncertkoncept, som Live Culture nu præsenterer i samarbejde med Gymnastikhøjskolen i Ollerup. Hos Live Culture er begejstringen stor. Her har de gennem længere tid ledt efter en koncertplads, hvor logistik, parkering, faciliteter og tilkørselsforhold giver mulighed for store koncerter med mange tusinde gæster. Og alle ønsker opfyldes i Ollerup.
– Vi blev blæst helt bagover, da vi så pladsen første gang. Pladsen kan med sin unikke historie, smukke ramme og gode tilkørselsforhold løfte oplevelsen af koncerter til nye højder. Her er virkelig mange muligheder for at lave store koncerter, fortæller Michael Juul Møller, direktør i Live Culture, og uddyber, at Olympen Live er det første af en lang række koncerter og arrangementer i Ollerup.
Forstander Thomas Smidt Dissing fra Gymnastikhøjskolen i Ollerup er stolt over det nye samarbejde.
– Min opgave som forstander er også at åbne skolen mod resten af Sydfyn. Med det nye samarbejde kan vi vise hvilke forrygende rammer, der er her i Ollerup. Flere har måske besøgt os til Demokratifestival, men vi får nu mulighed for at bruge området på helt nye måder med koncerter af forskellige størrelser, som kommer os alle til glæde, siger forstander Thomas Smidt Dissing.
Fra volden til Olympen
Koncertdagen med nogle af landets mest kendte bands foregår på pladsen bag skolen, der i sin tid blev skabt til det nordiske OL tilbage i 1935, og dengang rummede både kongefamilien og 50.000 gæster.
– Det er et helt unikt område bygget til den slags, så jeg er så glad for, at det er lykkedes med samarbejdet her, siger forstander Thomas Smidt Dissing fra Gymnastikhøjskolen i Ollerup.
Området bag højskolen er i daglig munde blevet omtalt som volden, men med det nye samarbejde og koncertplaner får pladsen navnet Olympen med referencer til historien.
– Olympen er et fantastisk udendørs koncertsted, der kan rumme både små intimkoncerter og de helt store internationale kunstnere med mange tusinde gæster – og lige i vores "fynske baghave", siger Michael Juul Møller fra Live Culture.
Thomas Smidt Dissing ser frem til at byde tusindvis af gæster velkommen til Ollerup.
– Vi har unikke faciliteter – også med vores nye store hal, der ligger lige ud til Olympen. Og til alle, der endnu ikke har besøgt Olympen, kan jeg kun sige, at der er en oplevelse i vente. Det er en unik plads, der blev skabt tilbage i 1935 og som i den grad kan bruges i dag, fortæller han.
Billetsalget til Olympen Live starter mandag d. 15. november 2021, kl 10. Alle, der har ubrugte billetter fra den aflyste koncert på Valdemars Slot fra corona-nedlukningen vil automatisk blive ændret til Olympen Live 20. august 2022, da den nye koncertlokation også afløser det tidligere samarbejde med Valdemars Slot. Det er også muligt at få refunderet sin billet. Alle gæster får direkte besked om mulighederne.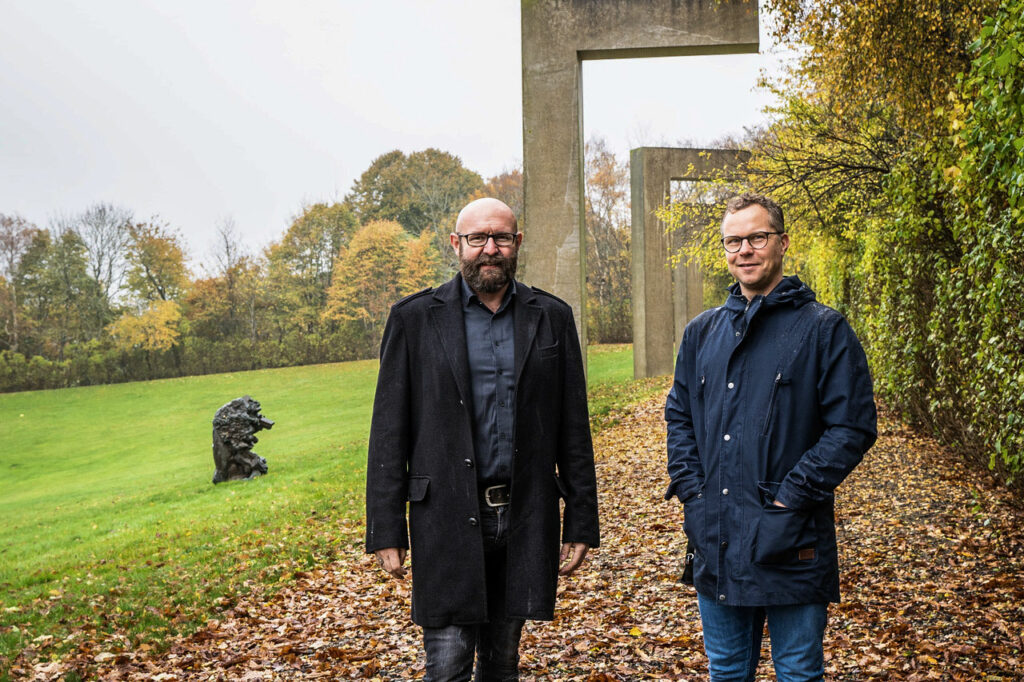 Når solen igen skinner på en varm sommerdag, så spiller nogle af landets stærkeste bands på den unikke lokation i Ollerup, der blev bygget til nordisk OL i 1935. Det har Michael Juul Møller fra Live Culture (tv.) og Thomas Smidt Dissing fra Gymnastikhøjskolen i Ollerup netop sikret med et nyt samarbejde.
OM ARENAEN
Vi kan rumme alt fra firmafester og møder til koncerter, konferencer og sportsbegivenheder
ARRANGØR
Lad dit næste arrangement udfolde sig under historiens vingesus i uforglemmelige rammer
FAKTA
Bliv klogere på antal siddepladser, parkeringsmuligheder, handicapadgang og meget mere